Domains of Practice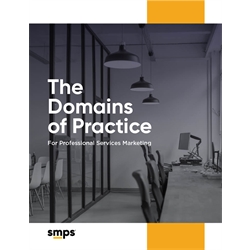 Description
Put the Domains to Work for You and Your Firm
The six Domains of Practice form the foundation of the SMPS certification program. When you earn the Certified Professional Services Marketer (CPSM) designation, you position yourself as an expert committed to the highest standards of professional excellence. In this guide, youll find the skill sets and knowledge areas needed for each domain of practice. The guide can be used to advance your career and build your business.


Please log in to receive member pricing.